Beautiful homes sell themselves .

When looking at some epic view, theres not much more you need to say except ……"Whats the price?"

The view sells it.

But for house hunters it can be time consuming to visit every prospective property on your list …. to see it in person
it could take more time than you have.

Drones provide some help .

By using high resolution drone pictures and video it can really showcase a house and the neighborhood. This can save house hunters a lot of time.

The next best thing to being there in person is watching a 1-2 minute video of what the property has to offer with aerial views showing prospects the property. Aerial photos help as well. Watch some of our real estate videos here .

With the cost of high quality drones going down it is now easier than ever to capture epic aerial footage.

So what is the best drone for real estate?
There are a few correct answers depending on you needs.

In this article we will explore the best Drone for Real Estate (by category). We will start by exploring common uses for drones in real estate, What features are needed for shooting Real Estate , and Finish the article by sharing our favorite products on the market separated by price. If you want to skip through an article use the table of contents link to get to specific areas.
THE BEST DRONES FOR REAL ESTATE ARE :

INSPIRE 2
MAVIC PRO 2
DJI MAVIC AIR 2
DJI PHANTOM 4
PARROT ANAFI
FIMI X8SE : BEST BUDGET CHOICE
COMMON USES FOR DRONES IN REAL ESTATE
There are many common uses for drones in Real Estate. Typically Real Estate agents use aerial photography and videography to market their listings.
AERIAL PHOTOGRAPHY : Typical shots used in Real Estate Photography are Property lines , Community , HDR and interior photos using the wide angle lens.

PROPERTY LINES : Drones give us aerial views that can give prospective buyers a view of property lines and overall size of the lot.
COMMUNITY : It's helpful to see how a piece of real estate blends with a community. Drones give us additional views of what surrounds a piece of real estate.
The high vantage point also lets you get a feel for a community that a home is in.

HDR : High dynamic range images are very popular in Real Estate Photography. HDR images are usually 3 or more 'bracketed' images shot at different exposures. The multi shots are then blended in your editing software like Lightroom. HDR images taken from an aerial view can be spectacular.
Smaller drones can fly indoors and take pics of the interior or the house.
AERIAL VIDEOGRAPHY: Drone footage can add incredible imagery to a listing video. Typical video clips may include An approach shot , Exploring highlights and a Virtual Walkthrough. You can read our article on real estate videography to learn more about this topic.

APPROACH SHOT: Many drone real estate videos begin with an approach shot also called a reveal shot. This is commonly used to hook the watcher into the video.
HIGHLIGHTS: Drone footage can be used to get detailed visuals of different parts of a property. You can fly closer to each area to focus on property highlights.
VIRTUAL WALKTHROUGH : ALthough many people use a Mirrorless camera on a gimbal for this type of shot, you can use a smaller drone to do it as well.
DRONE FEATURES FOR REAL ESTATE VIDEOS
What features does a drone need to deliver amazing Real Estate VIsuals? In this section we will look at what is important from a drone for real estate videos.

VIDEO FEATURES : For real estate videos , a drone should have a great image. Preferably with minimal barrel distortion (fisheye effect) . As far as specs go, you want a drone that can record high dynamic range at least 1080p , preferably 4k in resolution.
PHOTO FEATURES : To photography real estate , you'll need a drone that can capture .DNG files aka RAW images. This way you can maximize the visuals in Lightroom.
GIMBAL FEATURES : A drone with a gimbal is important because you can move the camera around while flying. We recommend a 3 axis gimbal. Drones without camera gimbals are harder to achieve epic camera movements.
FLIGHT FEATURES : There are many drone flight features that help for real estate videography .

Tripod mode is when a drone stays in place or hoveres very slowly. Benefits to this mode is getting slow cinematic camera movements. This mode is also good for indoor videography
FLIGHT TIME : Another feature to consider is flight time. When your capturing shots of a property the more time you have the better. Many drones auto land at 20% battery life … this means whatever time the drone flies subtract 20% to get actual flight time.
** Most drone videographers have at least 2 batteries to make sure you get all your shots

Now that we've gone over the common uses and features of drones for real estate , let's look at our picks for the best drones on the market.

BEST DRONES FOR REAL ESTATE
BEST PROFESSIONAL DRONE : DJI INSPIRE 2
DJI is leading the way in the consumer drone category . The company continues to innovate new technologies making drones safer and better.

Even though the Inspire 2 has been out for some time, it is still reigning champion for the Professional Drone Category. The visuals you can produce from this quadcopter are movie level quality. If your real estate video needs to be hollywood level. The inspire 2 is your best option.

PRO CAPABILITIES OF THE INSPIRE 2

HIGH VIDEO QUALITY : You can record 4k RAW Video which gives you maximum flexibility in post production ( cinema .DNG ) . This is a must when showcasing luxury properties when visuals are top priority
SUPERIOR FLIGHT CONTROL : For shooting real estate your camera movements help create the cinematic shot of the home.
INTERCHANGEABLE LENSES : You can change lenses to get different focal lengths . Most lower priced drones have a fixed lens. The benefit to this is getting more diverse shots to use for your video.
BEST PRO COMPACT DRONE : DJI MAVIC PRO 2
One of the most sought after drones on the internet , the Mavic 2 Pro is a professional drone in a compact portable size. One of the drawbacks of the inspire 2 is its size. The Mavic Pro 2 can easily be carried in a backpack. It has amazing video quality and can create stunning visuals for real estate.

PRO CAPABILITIES OF THE MAVIC PRO 2

HIGH VIDEO QUALITY : This drone is equipped with a F 2.8 Hassleblad Camera. You can record 4k video in a D-Log color profile. This gives you flexibility in editing software. This drone is sufficient for luxury real estate videos.
CINEMATIC CAMERA MOVEMENTS : Cinematic movements come from smooth camera control. The Mavic 2 has incredibly smooth flight control as well as a 3 axis gimbal for the camera.
INTELLIGENT FLIGHT MODES : Intelligent flight modes are great for real estate video. The Mavic 2 Pro has a few that are guaranteed winners to add to your production.
Point of Interest : The Point of interest Mode lets you circle around a property and get a 360 degree view.
Waypoints : Set DIfferent points to fly to and drone will automatically complete the flight. This is helpful so you can focus on camera angle while the drone does the flying.
COMPACT DESIGN : One great feature of the Mavic Pro 2 is its compact and foldable design. It can fit in a backpack easily. This is beneficial for lightening the load of camera equipment when shooting a real estate video.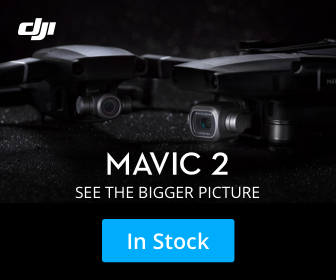 BEST PRO ULTRA COMPACT DRONE : DJI MAVIC AIR 2
Is size an issue for you? If so the DJI Mavic Air 2 is a powerful drone packed into a very small foldable body. Best for the Real Estate Photographer who wants great imagery that doesn't want to lug around a case of gear. Read our full article on the Mavic Air 2 here

CAPABILITIES OF THE MAVIC AIR 2

ADVANCED OBSTACLE AVOIDANCE : The Air 2 is the newest drone from DJI in the article. It has the most advanced obstacle avoidance system available on all DJI drones. It will even alert you when aircraft are in the area. Obstacle avoidance is great for beginner pilots as it helps avoid objects that you can see while flying. When shooting real estate, sometimes you are flying in tight spaces to get a unique perspective of a home. This is a great feature for insuring safety.
43 MEGAPIXEL PHOTO : This drone can shoot a high megapixel count of 43 megapixel. It can capture .DNG files which is great for surreal aerial photography.
STUNNING VIDEO QUALITY : Borrowing many technologies from the Mavic Pro 2 , the drone takes amazing video. It can also capture video in D-log flat color profile which is helpful for maximizing color information.

DJI PHANTOM 4 2.0
The DJI Phantom 4 V1 was once the best drone on the market. DJI has upgraded many features , now the V2 is one of the most professional drones on the market.

CAPABILITIES OF THE PHANTOM 4 2.0

BEAUTIFUL TWILIGHTS: The Phantom 4 wins on low light capability vs the Mavic Pro 2 and Mavic Air 2. If you are looking to shoot dusk shots for real estate you will notice a slight difference in quality.
HIGH QUALITY IMAGERY : This drone takes amazing video and pictures. Comparable to the MAvic 2 Pro.

 PARROT ANAFI 
Parrot is another reputable drone manufacturer . The company specializes in consumer drones for photography as well as thermal and agricultural.

CAPABILITIES OF THE PARROT ANAFI

HIGH QUALITY IMAGERY : The Parrot Anafi can handle all you need for real estate video and images. It can take HDR photos and has a high dynamic range for video as well.
COMPACT AND SMALL : This drone is great for those who don't want to lug around a ton of gear . It also can fit it hard to reach place to capture unique perspectives on homes.
BUDGET FRIENDLY: Compared to other drone on this list this drone is one of your cheapest options for a high quality drone to shoot properties or architecture.
OTHER FEATURES OPTIMAL FOR REAL ESTATE:
SLOW MOTION : Create the dreamy slow motion
HYPERLAPSE FUNCTION : Create stunning hyperlapse effects
ZOOM EFFECT : Lossless zoom effect gives up to 2.8 x zoom which is great for getting in closer.
 BEST BUDGET DRONE : FIMI X8SE 
Fimi as a company has grown a reputation for making great value drone products. Their drones offer many features of the higher tier drones for a fraction of the price. For those on a budget ( under $600 ) we recommend the FIMI X8SE. Check out our full review on this drone here.

CAPABILITIES OF THE FIMI X8SE

BEST RE DRONE FOR THE PRICE : This is a great value drone for the money . It can shoot in a beautiful 4k , has great flight modes and a long battery life (30 min)
GREAT IMAGE QUALITY : This drone takes amazing photos and videos for its price. It can shoot in 4k at various frate rates . It has a 2.0 aperture camera so shooting at twilight because of its low light performance. It also records 12 megapixel photos and will shoot in RAW .DNG format which is a pro standard.
SMALL IN SIZE : Similar in size to the MAvic 2 pro , it is foldable and can be taken with you in a backpback
Who this drone is best for? This drone is best for those who want professional level photos and video abilities for the lowest cost.
I hope you have enjoyed this article. No get out there and shoot some homes!
REALTORS :

Are you a real estate agent looking to fly your own drone? Keep in mind that drone piloting is not as easy as it looks. Not to mention video editing is a whole other can of worms. If you are a realtor looking to fly drones to capture your listings, you'll need to get your P107 License first.

If your considering flying your own drone for your listings